Welcome to our summer series of "virtual happy hours!" The series will highlight important people and ideas that are inspired by our CHSC mission to connect people through communication. The events are fun and engaging - with plenty of surprises! Most importantly, you won't be on camera, so come as you are! Invite your friends, grab a snack and beverage, and tune-in!
Our next virtual happy hour will feature a conversation with sportscaster and "Voice of Cleveland Baseball," Tom Hamilton!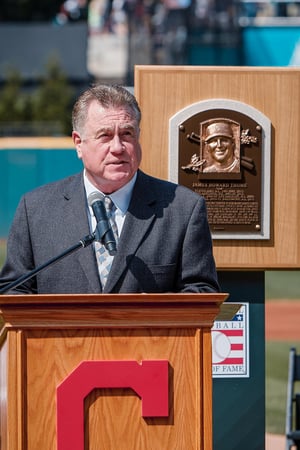 Thursday, August 13
5:30 - 7:00 pm
Tom Hamilton is the chief radio play-by-play announcer for the Cleveland Indians. Tom's voice is iconic, not just in Cleveland, but across all of baseball. It's been said that his homerun calls are "...the best in baseball!" Voices matter for communication-- perhaps that's why Tom's voice was the inspiration for a recent conversation about the science that makes his voice so memorable with a speech-language pathologist on the Let's Go Tribe website!
Known to Cleveland fans as "Hammy", he has been named the NSSA Ohio Sportscaster of the Year seven times, was inducted into the Cleveland Association of Broadcasters Hall of Fame in 2009, and earned the Lifetime Achievement Award from the Greater Cleveland Sports Awards in 2015.
Hamilton and his wife, Wendy, have four children. Their eldest son, Nick, graduated from Kent State University, where he was a key member of 2012 College World Series qualifying Kent Golden Flashes and played three years of pro ball and is now a scout for the Kansas City Royals.
Tom, Wendy, and Nick have a special connection to CHSC. At age 3, Nick was diagnosed with moderate to severe hearing loss and wears hearing aids in both ears. He worked with CHSC Senior Audiologist, Dr. Laura Brady, in those early years and the family continues to express gratitude to Dr. Brady to this day, crediting her with playing a major role in Nick's success. You can read more about Nick's story in this feature printed in the Plain Dealer in 2012.
Can't attend but would like to support CHSC?