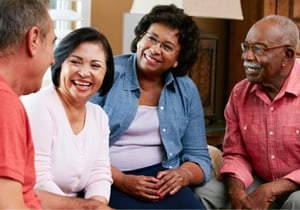 Caregivers are presented with many challenges on a daily basis. They are often overwhelmed by working and also caring for a loved one. Most are worried about their loved one's safety in the home and managing their medical and financial needs. They are inundated with decisions to make such as obtaining community services and support as well as choosing long-term care options and health care providers.
Related article: Stress-Reducing Methods for Caregivers
Recently, the Cleveland hearing & Speech Center (CHSC) Caregiver Support Group was visited by Lisa Weitzman and Lauranne Scharf from the Benjamin Rose Institute on Aging (BRI) in Cleveland, Ohio. BRI provides care consultation services for those who are struggling to care for a loved one. For example, BRI can provide guidance to locate home and community-based services to help older adults remain independent in the community or to find housing for low-income seniors.
During the discussion, group members shared that it is often hard to accept help from others but that is crucial to do so. Those who try to do it all themselves quickly "burn out" and risk issues with their own health.
Several members commented that the monthly CHSC Caregiver Support Group is "the best resource" and a "hidden gem" in the Cleveland area for those caring for loved ones who have experienced a stroke or other neurological impairment. Participants share their frustrations, successes and recommendations with each other and develop close bonds due to their shared experiences. This blog shares some of those tips and recommendations, such as Morning Communication Activities at Home.
If you would like more information or would like to attend the CHSC monthly Caregiver Support Group, please contact Tracy Biller, CHSC Adult Program Coordinator at tbiller@chsc.org.