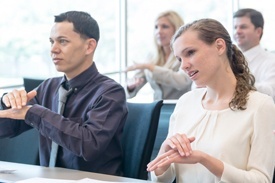 The Community Center for the Deaf and Hard of Hearing (CCDHH) at Cleveland Hearing & Speech Center (CHSC) has launched a new initiative beginning in February 2018. CCDHH will offer their first accredited American Sign Language interpreter workshop with a focus on medical interpreting. If well received and attended by the interpreting community, it is our hope that this will become an ongoing project with interpreter trainings provided more regularly. By creating these workshops, CCDHH hopes to increase professional development opportunities for interpreters in the greater Cleveland area. Currently, interpreters in our area in pursuit of continuing education credits are limited to on-line courses or they must travel a distance (even out of state) to obtain the credits to maintain their licensure and/or increase their knowledge.
Starting with this first workshop: Healthcare Interpreting … What's in Your Toolbox? on February 10th in Westlake, the CCDHH has plans to expand these workshops throughout the year to more locations, and to present them to more audiences. The Westlake workshop offers 0.4 CEU's at the "Some" Content Knowledge Level through the Ohio Chapter of Registries of Interpreters for the Deaf (OCRID).
This workshop is provided by Patti Gates, who has been interpreting for 25 years. She has been RID certified, CI/CT since 1995 and obtained a specialized certificate in Healthcare Interpreting (CHI) from RIT/NTID in 2016. Patti moved to Aurora, Ohio in October, 2016 from NY. She brings with her 7 years of experience as a staff interpreter at the University of Rochester Medical Center and has been serving the Deaf community in the Cleveland area through her staff position at the Community Center for the Deaf and Hard of Hearing at the Cleveland Hearing and Speech Center since November, 2016. Her interpreting interests lie in fostering collaborative relationships in team interpreting environments, mentoring colleagues, and establishing best practices in healthcare settings.