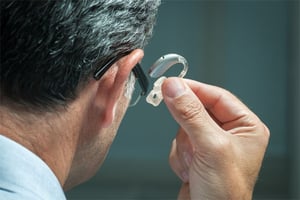 Cleveland Hearing & Speech Center has had a long history of serving people with communication needs regardless of their ability to pay. Our Audiology Patient Assistance (APA) Program is available to those who require hearing aids and demonstrate financial need. In addition, we are a provider for Medicaid and Medicaid Managed Care plans including CareSource. These programs are targeted to those who have limited financial resources.

However, traditionally, there has been essentially no financial support available for people who are working to pay bills and support families but for whom the cost of hearing aids could be prohibitive. Because of the high cost, many people who fall under this category would typically avoid treating their hearing loss by not purchasing a hearing aid. Less than 30% of people who need hearing aids own them. Today, there are exciting changes happening in the hearing aid market to make hearing aid affordable for all who need them.


Medicare Advantage Plans

Medicare Advantage plans are taking the insurance market by storm. Since 2010 participation in these plans is up 71%. In Ohio, 35% of those eligible for Medicare have chosen to participate in a Medicare Advantage plan.* Medicare Advantage plans often offer participants more benefits than traditional Medicare at a lower cost. Hearing aids are one of the benefits that many Advantage plans offer that traditional Medicare does not cover. These plans should help remove the financial obstacles that deter some people from seeking treatment for their hearing loss.

For service providers, one of the drawbacks to these plans is that the reimbursement to the audiologist for professional services associated with fitting a hearing aid is very low and non-competitive. Therefore, many audiologists choose not to participate.

At Cleveland Hearing & Speech Center we are embracing these plans! As one of a very few providers accepting these new insurance plans, CHSC has the opportunity to help clients that may be turned away from other audiology practices.

Over-The-Counter (OTC) Hearing Aids

On August 18, 2017, President Trump signed into law the Food and Drug Administration Reauthorization Act of 2017, legislation that includes the Over the Counter Hearing Aid Act. This legislation compels the Food and Drug Administration (FDA) to allow for the purchase of over-the-counter (OTC) hearing aids for adults with mild to moderate hearing loss. They have 3 years to work out the logistics.

The goal of this legislation is to increase accessibility to hearing aids including financial accessibility. This bill will directly benefit Baby Boomers (those born between 1946 – 1964) who may be experiencing the beginnings of hearing loss and want to remain active and engaged.

CHSC sees OTC hearing aid as a positive opportunity for audiologists. We plan on offering OTC hearing aids at all of our offices. In addition, we know that the audiologist plays a critical role in a successful hearing aid fitting, so we will continue to offer professional services to all people, regardless of where their hearing aids were purchased. We can help a person get the maximum benefit from their hearing aids. The following services are offered at CHSC:
Diagnostic audiologic testing to determine the type and severity of hearing loss and a person's ability to understand speech in quiet and noise.
Guidance in choosing an OTC hearing aid or accessories/ couplers for OTC hearing aids that will best meet the needs of the patient and the patient's hearing loss.
Customizing OTC hearing aid's features to best meet the patients hearing loss as able by product.
Providing custom ear impressions.
Educating patient on proper use and care of OTC hearing aids or any hearing related product.
Performing repairs and modifications to hearing aids.
Completing outcome and verification measures to document successful fittings of hearing aids including Real Ear measurements, aided testing and questionnaires to gauge patient perception of outcomes and satisfaction.
Hearing aids make good financial sense for the community
70% of people who could be helped by hearing aids do not use them. Increasing the adoption rate for hearing aid use makes good financial sense for the individual and the community.
Hearing loss is more prevalent in the senior population, which is rapidly growing. Older adults are also working longer. By 2022 it is expected that 27% of men and 20% of women over the age of 65 will be in the workforce (Population Reference Bureau). Employment income is related to the degree of hearing loss. As hearing loss increases above a mild loss, compensation decreases (Hearing Loss Association of America). Treating hearing loss can have positive financial impacts including increased earnings and productivity (Better Hearing Institute).
Hearing aids are an integral part of Evidence Based treatment of hearing loss. Hearing aids improve a person's ability to take part in everyday life. They improve a person's ability to listen and understand other people, a basic requirement for almost any employment situation. Treating hearing loss is good for both the individual and the community!
*The Henry J. Kaiser Family Foundation