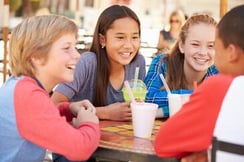 Learning and practicing how to correctly produce their "r" or "s" sound is certainly NOT what 8-12-year-olds want to be doing! Most would prefer to be playing video games or riding their bike. One way to make speech therapy and at-home practice a little easier is to use an app. These apps could be on the parent's phone, the tween's phone, or a family iPad.
A favorite app of Speech-Language Pathologists (SLP) everywhere is Articulation Station by Little Bee Speech. This app offers a free version, which includes the sounds "p,m,w,d,b,h,y, and n." There is an option to purchase additional sounds for only $3.99-$7.99 each – you can purchase all sounds and features for $59.99. There is also a Spanish version. This app has vibrant photographs representing each sound in each word position. It also offers the ability to work on the sounds at various commonly targeted levels: word, phrase, sentence, and story. The words can be practiced as flashcards or a matching game, with the ability to create custom word lists, as well as to record, store, and playback voice recordings of your tween's speech - some love to hear themselves! This feature is also a great way to work on a child's self-awareness and will allow for self-correction of their own speech errors. Though the app may seem a bit childish to your older tween, it still offers great speech practice opportunities.
ArtikPix by Expressive Solution is another useful app for a tween to practice a variety of speech sounds. This one is $29.99 for all 24 sounds. Similar to Articulation Station, there are multiple features such as audio recording and playback, as well as the option to practice flashcards or matching. One nice feature of this app is the ability to change the matching game's level of difficulty to have more or less picture pairs. This app's sound targets are depicted as drawings, rather than photographs, which may be less appealing to your tween.
There are several apps created by Speech-Language Pathologist Erik X. Raj. A few of these include Charades Articulation, Wacky Selfie Articulation and Word Search Articulation. They are each $4.99 and target the sounds most commonly addressed: s, z, r, l, ch, sh, th and blends. The Charades Articulation app is a great way to reinforce speech skills while having fun. One person will describe or act out a set of sound-specific articulation words to the guesser. With the Wacky Selfie Articulation app, the tween takes a selfie of him or herself. The app then randomly adds a sound-specific sticker on top of your tween's head and he or she can then talk about the silly object with their communication partner (you!) while using their best speech sounds. The Word Search Articulation app allows your tween to discover hidden speech words in a grid of jumbled letters. He or she is able to ask for hints if needed and can play an entertaining game with others while practicing their communication skills. These apps do not say the word, so they should definitely be used with a speech partner.
The Vowel Viz Pro app by Complete Speech is best for working on the "r" sound, especially the vocalic "r". This $49.99 app is unique in that it displays a visual map of the speech production. A line will be drawn from the vowel to a circle target with the "r" inside. Your tween can see how accurate, or inaccurate, they produced the sound. This can be helpful to fine tune those extra tricky words such as "ear," "air" and, "or."
These are just a few of many speech app options out there. While an app on our phone or iPad does make speech practice more accessible and mobile, please know that nothing can replace your input. When using any technology with speech sound practice, parent involvement is still crucial. Your child needs to hear your praise as well as your corrective feedback. While these apps can record your child's production of the word, they do not tell the child if their production was correct or not - that is still your job! But hopefully, one or two of these apps can make that job a little more fun.