October 22nd is International Stuttering Awareness Day. Stuttering affects more than 70 million people worldwide - which is about 1% of the population. In the United States, that's over 3 million Americans who stutter. Approximately 5 percent of all children go through a period of stuttering that lasts six months or more. Three-quarters of those will recover by late childhood, leaving about 1% with a long-term problem. The best prevention tool is early intervention, and Gabby's story is a perfect example…
Gabby's Story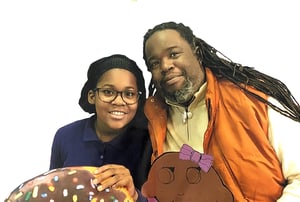 Gabby Young is a 12-year-old who loves cats, painting, and cooking barbecue with her family at their pop-up restaurant—which her family named after her. Gabby is also a girl who stutters and used to cry at school because she couldn't get her thoughts out without stumbling over the words.
Damon Young knew his daughter needed expert care and reached out to Cleveland Hearing & Speech Center (CHSC), where Gabby began attending a weekly 45-minute therapy group and the FACEtime (Fluency, Attitude, and Communication Effectiveness) summer camp for kids who stutter. Through these programs, Gabby befriended other teens facing the same struggles and, together, they learned techniques to help manage their stuttering. Though Gabby was one of the youngest in the group, the safe environment empowered her to become a real leader, progressing in her speech fluency and cheering on her friends.
When COVID-19 forced CHSC speech therapists to transition to teletherapy, Gabby continued to flourish in individual and group teletherapy sessions. The stuttering management skills that Gabby learned over the past two years have allowed her to become the social butterfly she always was inside!
Says Gabby's dad, "I don't know what my daughter's life would be like if she didn't receive services from [CHSC] – this place changes lives!"
NEW Stuttering Services at CHSC
In addition to speech therapy sessions and the FACEtime summer camp, CHSC now offers FREE, weekly stuttering support group sessions for kids and teens.