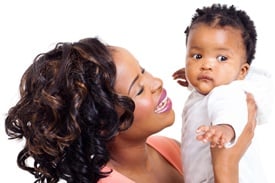 As of 2004, Ohio law requires that all Ohio hospitals and birthing centers must offer the Universal Newborn Hearing Screening (UNHS) before discharge. Technology allows for hearing to be checked at any age, including newborns. The methods used are safe, quick and effective. The hearing screening determines whether a more detailed evaluation of a baby's hearing is needed. These hearing screening reports must be sent by the birthing hospital to the Ohio Department of Health (ODH).
Helping Your Child
If your child has not passed the Universal Newborn Hearing Screening (UNHS) it is very important that you take your baby for a diagnostic hearing test by a licensed pediatric audiologist. The Cleveland Hearing & Speech Center is one of the providers that can perform the specialized testing needed to assess hearing in very young children.
Diagnostic hearing testing is important because the earlier you identify a hearing loss in a baby, the better it is for the baby. Only some babies who do not pass the UNHS have hearing loss. The only way to know for sure is to complete the diagnostic hearing test. It is easiest to test a newborn/infant, although children of all ages can be tested.
If in-depth testing by an audiologist shows hearing loss or deafness, the child is eligible for specialized early intervention services provided by the Infant Hearing Program, in conjunction with Help Me Grow.
The Infant Hearing Program at CHSC
The Infant Hearing Program, partially funded by the Ohio Department of Health, is a family-focused outreach service for infants and toddlers (between the ages of birth and 3) who are deaf or hard of hearing. All intervention services are provided at no cost to families. The goal is to make sure that families of children who are deaf or hard of hearing receive complete information and the help they need to understand their child's hearing loss.
Each family is assigned an Outreach Specialist who comes to see you and your child and can provide :
Unbiased information on important topics such as hearing loss, hearing aids, cochlear implants, and communication options. The outreach specialist will help you make informed decisions that re best for your child and your family
Suggestions for how you can help your child build communication, language and literacy skills
Provide links to community resources to help you and your child
Provide opportunities for you to meet other families who have a child with hearing also and to interact with members of the Deaf community
Additional support includes:
Information on hearing, hearing loss, amplification, assisted listening devices and cochlear implants
Unbiased information on all communication options and educational settings
Information on child development
Suggestions for building communication and language skills
Regular progress checks on communication and language development
Assistance obtaining appropriate services through referral and advocacy
Links to audiology, speech and language therapy, school programs, family support services and community resources
Support from D/deaf adults and the Deaf community
Links to other families
Collaboration with other state agencies (such as Help Me Grow) and professional organizations
If you know of an infant or toddler who is deaf or hard of hearing (in one or both ears), please contact us at:
Voice: (216) 325-7585
Toll-free: 1 (888) 996-7447 (ext. 7585)
Fax: (216) 325-7685
Email: rihp@chsc.org