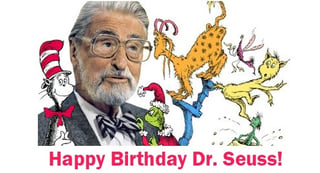 The National Education Association (NEA) Read Across America Day is an annual reading motivation and awareness program that calls for every child in every community to celebrate reading on March 2, the birthday of beloved children's author Dr. Seuss.
Motivating children to read is an important factor in student achievement and creating lifelong successful readers. Research has shown that children who are motivated and spend more time reading do better in school.
At Cleveland hearing & Speech Center, we encourage kids to read by offering all children a free book to read and keep from our Little Free Library, located in the lobby of our University Circle office. And, by promoting Dr. Seuss' motto:
You're never too old
Too wacky or wild
To pick up a book
And read to a child.
Reading aloud for 15 minutes to a child – such as a bedtime story – is the most important factor in a foundation of literacy success. Learn more.