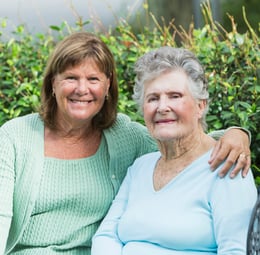 Welcome to the first of a blog series on stroke recovery resource information from Cleveland Hearing & Speech Center (CHSC). Topics of the series include first action steps following a stroke, benefits of speech therapy, communication strategies, tips for caregivers, and much more.
Current statistics show one in four people over the age of 25 will have a stroke at some point in their lives. However, approximately 80% of strokes can be prevented with healthy lifestyle changes.*
After having a stroke, a person may experience problems with speaking, movement, thinking, memory, behavioral control, judgment, safety awareness, and even swallowing. This makes completing basic activities of daily living (such as household chores and self-care) very difficult. Often, rehabilitation services and therapy are recommended to assist with regaining and relearning these skills.
The first 3 months following a stroke are vital for recovery. During this time, the brain will have increased neuroplasticity, or the ability to adjust and learn new information. This period is critical for seeing gains in skill recovery by participating in speech therapy, occupational therapy, and physical therapy sessions. It may take time but consistency is key.
At CHSC, we take a whole life, personal approach to stroke recovery - prioritizing individual goals and lifestyles. We know that communication is an essential piece to the whole puzzle of stroke recovery. Together, we strategize methods to increase the quality of life and enhance each person's ability to participate in activities that are important to them.
We offer individual therapy services to address a variety of difficulties experienced after a stroke. We focus on building a treatment plan together with the client, their family, and caregivers to enhance their quality of life. A 'whole life approach' means we focus on providing therapy related to the things in life that are important to each person. If someone enjoys baking, we work on ways to create recipe cards that are easier to access. If someone has difficulty speaking and communicating in their current job - or when applying for a new one - we create a script for practice. Our primary goal is to enhance communication and participation in activities that are meaningful to each individual.
Northeast Ohio Adults Communicating Together (NEO-ACT)
Offered exclusively at CHSC, NEO-ACT is a free, grant-funded program that offers a weekly book club and communication and support group for stroke survivors. The program incorporates communication techniques and is an extension of support to traditional therapy.