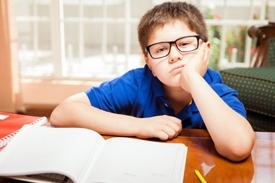 Dyslexia is a specific learning disability that is neurological in origin. It is characterized by difficulties with accurate and/or fluent word recognition and by poor spelling and decoding abilities. These difficulties typically result from a deficit in the phonological component of language that is often unexpected in relation to other cognitive abilities and the provision of effective classroom instruction. Secondary consequences may include problems in reading comprehension and reduced reading experience that can impede growth of vocabulary and background knowledge.
Signs and Symptoms of Dyslexia
Reads slowly and painfully

Shows wide disparity between listening comprehension and reading comprehension of some text; that is, they understand if someone tells them

Has trouble with spelling

May have difficulty with handwriting

Exhibits difficulty recalling known words

Has difficulty with written language

May experience difficulty with math computations, particularly word problems

Decoding (sounding out) real words is easier than sounding out nonsense words

Substitutes one small sight word for another while reading aloud: a, I, he, the, there, was
What types of therapy are available?
Therapy may be recommended to address needs in oral language and/or written language skills. The Speech-Language Pathologist (SLP) may suggest individual or group therapy sessions, depending on your child's needs. Several strategies are combined to help your child build vocabulary, learn to sound out words, understand the meanings of words, understand what is read and learn how to spell. CHSC SLPs often employ strategies from the Wilson Reading System to address these needs.

Cleveland Hearing & Speech Center currently employs speech-language pathologists who are certified Wilson Dyslexia Practitioners. This means that the SLPs have completed a nearly yearlong training experience using the Wilson Reading System, under the supervision of an experienced Wilson trainer. They have attended workshops and meetings to discuss appropriate use of the program.
For more information on reading, writing, and Dyslexia services at CHSC, please call 216-231-8787 or request an appointment here.