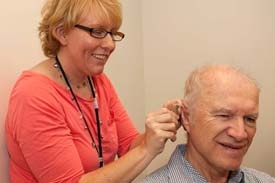 Cleveland Hearing & Speech Center audiologists are highly trained professionals. We have Doctoral and Master's degrees in audiology and we have devoted our careers to helping you hear better. At CHSC, We believe that life is improved by successful communication. We are dedicated to helping people hear better so they can fully enjoy the people and activities that bring meaning to each day.
As audiologists, we have a deep understanding of the auditory system, how hearing loss affects that system, and can offer many treatment options for your specific level of hearing loss.
We know that in today's market, consumers have many choices of purchase options for their hearing health care. Online and big box stores entice consumers with the quick fix, and prices that seem to be "too good to be true."
At CHSC we are committed to helping you hear better. Our hearing aids are priced competitively, and we also have sliding fee scales for those who have limited financial resources. Most importantly, we spend time understanding your unique hearing needs and the listening situations you experience the most. We help find solutions that will best meet those hearing needs and situations. For some people that includes hearing aids, but for others, behavioral changes or other assistive devices (like a TV amplifier) might be all that is needed. We work with you to develop a plan so you are not spending money on products not matched to your auditory needs, or to your lifestyle.
However, if you have purchased hearing aids or products online, or from another provider, and your needs were not met, we are happy to help. You can purchase our professional services separately from any device, and we will work with you to determine if the hearing aids you previously purchased are appropriate for your hearing loss and lifestyle. Services we can provide include: evaluating and programming the hearing aids, reviewing the proper care and use, and testing that verifies the appropriate amplification of sound for your hearing loss. These professional services can make all the difference between a hearing aid that is left in a drawer versus hearing products that are used daily and help you connect to the people important to you.