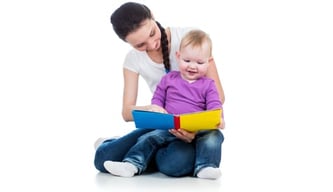 Toddlers want to feel included and competent; choose books that your child can follow along with, especially those with repetitive text so he or she can fill in words. Maintain your toddler's interest by choosing books with small amounts of text on the page and books about topics that you know are of interest.
For younger toddlers (12 to 24 months) you'll want sturdy board books with pictures (especially photos) of kids doing the things they do every day. Books about bedtime, baths, or mealtime are all good choices; so are books about saying hello or good-bye. Keep active hands busy with lift-the-flap pages and textures to feel.
Toddlers from 24 to 36 months are beginning to be able to turn paper pages, so this is an excellent time to expand beyond board books. They are also starting to understand the mechanics of reading and like books that are repetitive and easy to memorize so that they can "read" along. By now you will start to know what your child's passions are - whether trains, trucks or stuffed bears, find books about these things of interest. Children this age also like books about children, families, and animals.
Toddlers love to look at homemade books, scrapbooks, or photo albums full of people they know (try adding simple captions). Poetry and songbooks are terrific choices for this age group too. You may find that story time turns into sing-along time.
5 Areas of Early Reading
Phonemic Awareness - A phoneme is a sound. Phonemic awareness refers to the ability to notice, think about, and work with the individual sounds in spoken words. Before children learn to read print, they need to become aware of how the sounds in words work. They must understand that words are made up of speech sounds or phonemes. Phonemic awareness is only a part of phonological awareness.
Phonics - Teaches children the relationships between letters (graphemes) of written language and the individual sounds (phonemes) of spoken language. It teaches children to use these relationships to read and write words. Research has shown that systematic and explicit phonics instruction is more effective than non-systematic or no phonics instruction.
Fluency - The ability to read a text accurately and quickly. Fluency is essential because it provides a bridge between word recognition and comprehension. At early stages, children decipher word by word/one word at a time. As they develop reading fluency, children read in phrases and then in full sentences.
Vocabulary - There are two types of vocabulary, oral and reading. Oral vocabulary refers to words we use in speaking or recognize when we hear them. Reading vocabulary refers to words we recognize or use in print. Vocabulary is critical for reading comprehension. Readers cannot understand what they are reading without knowing what most of the words mean.
Text Comprehension - Comprehension is the reason for reading. If readers can read the words but do not understand what they are reading, they are not comprehending what's being read. Good readers have a purpose for reading and think actively as they read.
DID YOU KNOW: Cleveland Hearing & Speech Center in University Circle is one of the many locations of the Little Free Library. To encourage reading and literacy in children, any child may choose a book to read and keep.