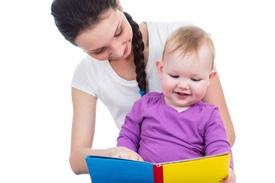 Reading aloud is an important way to help your child make the transition from infancy into their toddler years. Between the ages of 1 and 3, your child will have triumphs and challenges. Studies show that children with an active exposure to language have social and educational advantages over their peers - and reading is one of the best ways to expose your child to language.
Your child will make big leaps in vocabulary during these two years, and will learn about letters, shapes, colors, weather, animals, seasons – all of which can be reinforced through books. Choose books with many pictures that will allow your child to identify the image.
You can also use books and stories to help your child learn how other kids have managed situations such as their fears about what's under the bed and the challenge of using the potty. Books can serve as a helpful method to address these particular topics to your child. It allows them to learn about these situations while learning to read.
While eager to learn about the world and experience it, your toddler also needs a strong connection with you. Reading together regularly can strengthen the bond between a parent and child, and lays the foundation for independent reading in the future. But before your child can read independently, he or she needs a set of skills called emergent literacy skills. These include:
having a large vocabulary of words (oral language) and knowing how to use them
understanding that words are made up of smaller sounds (this is called phonemic awareness)
understanding that marks on a page represent letters and words
knowing the letters of the alphabet
You don't need games, flashcards, or special instructions to help your child gain these skills. You just need books, your child, and you. Reading aloud to a child for 15 minutes every day - approximately the time of a bedtime story - is crucial for reading, learning and language skill development.
DID YOU KNOW: Cleveland Hearing & Speech Center in University Circle is one of the many locations of the Little Free Library. To encourage reading and literacy in children, any child may choose a book to read and keep.